LEARN 500 OF THE MOST COMMON SPANISH WORDS IN 10 WEEKS!*
(Just 10 words per day, 5 days per week, for 10 weeks.)

THESE DAILY LESSONS are SHORT LESSONS presenting:
10 VOCABULARY WORDS
BRIEF NOTES
EXAMPLE PHRASES
This excerpt from lesson 31 will give you some idea of the style, format, and content (click to enlarge):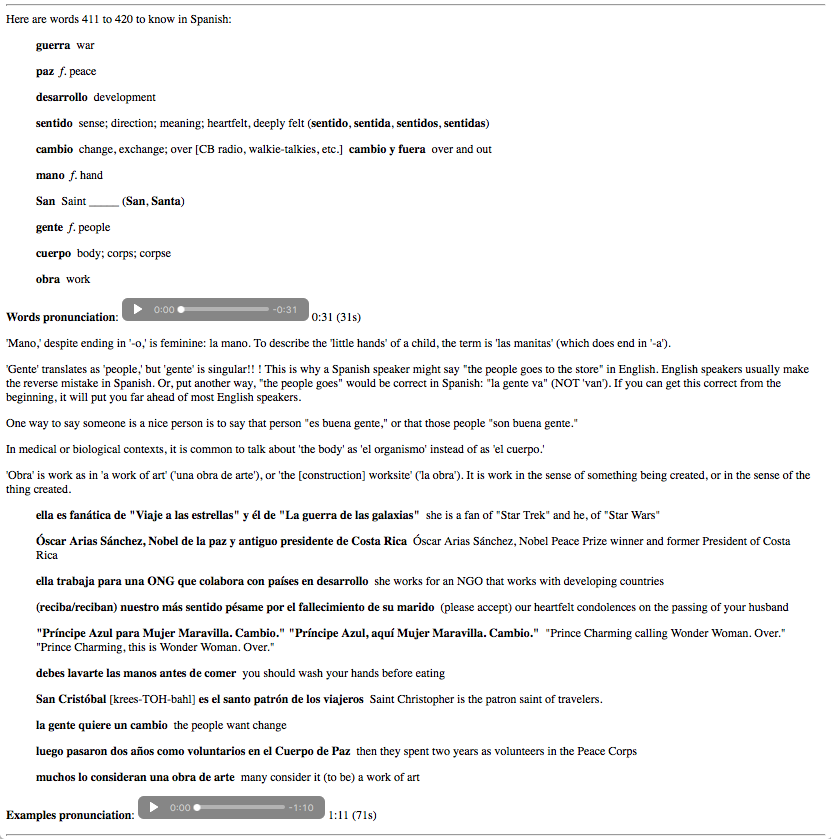 THE FIRST 500 WORDS COURSE IS AVAILABLE NOW. There are 36 lessons. Thirty-five lessons cover 375 Spanish words and one lesson presents 125 true cognates—words that look the same in both languages and also really do mean the same thing in both languages. Many additional useful words can also be learned from the example phrases.
These lessons are intentionally short and simple, but still accurate, and focused on the most common Spanish words. They can be read in just a few minutes in the morning and reviewed in just a few minutes in the afternoon—at breakfast and at dinner, during morning coffee break and afternoon coffee break, on the morning bus and the evening bus. The first lesson includes suggestions for effective studying.
In this course, you will benefit from the author's deep knowledge of Spanish gained during two decades as a certified translator (written) and interpreter (spoken).
GET A START ON SPANISH NOW and ORDER THE FIRST 500 WORDS COURSE for just $25 per year or $6 per month (10 day free trial)! (Must be 18 to order.) At 50 words per week, this course should take 10 weeks to complete.
Subscriptions will renew automatically, so please cancel whenever you are done with the course or no longer wish to be billed.
Thank you.
*COMING SOON: LEARN THE 2,500 MOST COMMON SPANISH WORDS IN 1 YEAR!
(Just 10 words per day, 5 days per week, for 50 weeks.)