Spanish Pronto

The translation you need, when you need it
La traducción que necesita, cuando la necesita
TRADUCCIONES E INTERPRETACIONES
Traductor Certificado por la ATA para traducciones de español a inglés
Traductor Certificado por la ATA para traducciones de inglés a español

Traductor e intérprete simultáneo
de español a inglés o de inglés a español
Disponible para la interpretación de conferencias
Ubicado en Olympia, Washington, EE.UU.
Miembro de la Asociación Estadounidense de Traductores (ATA)
Llame a Chris al +1 360 951 5755 / traducciones@spanishpronto.com

Muestras de traducción: http://www.spanishpronto.com/translationsamples.html

TRANSLATIONS AND INTERPRETING
ATA Certified Translator for Spanish-to-English translations
ATA Certified Translator for English-to-Spanish translations

Spanish-to-English or English-to-Spanish
translator and simultaneous interpreter
Available for conference interpreting
Located in Olympia, Washington, USA.
Member of the American Translators Association (ATA)
Call Chris at +1 360 951 5755 / translations@spanishpronto.com

Translation samples: http://www.spanishpronto.com/translationsamples.html
I look out for your interests. I make sure that you get the translation you need, to accomplish what you want. For example, one client came to me with a detailed description of every faucet, floor tile, and other feature of his house. It went on for 25 pages of small print. I told him translating this would run into the thousands of dollars, but I asked him what he needed the translation to do for him. He told me he needed it to prove that he was the owner of the house. I realized that could be done by translating the first half of the first page. Much less expensive, and it accomplished exactly what he needed.
I have officially translated everything from birth certificates for immigration (and emigration) to official translations into Spanish of documents for the (Obama) White House Spanish website for the Executive Office of the President. I know that every translation I do is an extremely important translation.
My focus is on serving direct clients who are looking for exactly the services they need. I am one of 73 Spanish translators in the entire U.S. certified in both directions by the ATA. Although I don't rule out working with agencies altogether, if you are looking for a run-of-the-mill translator operating at the low end of the market, that is not me. If you are a direct client looking for a translator dedicated to providing you with translations that will help you achieve your goals, please give me a call and let's get started! Thanks.
Chris Marquardt, CT (Spanish to English, English to Spanish)
+1 360 951 5755
Olympia, Washington, USA
GMT -7 (mid-March to early November)/GMT -8 (early November to mid-March)
---
Article: A Species of Bat Bigger Than a Cow
---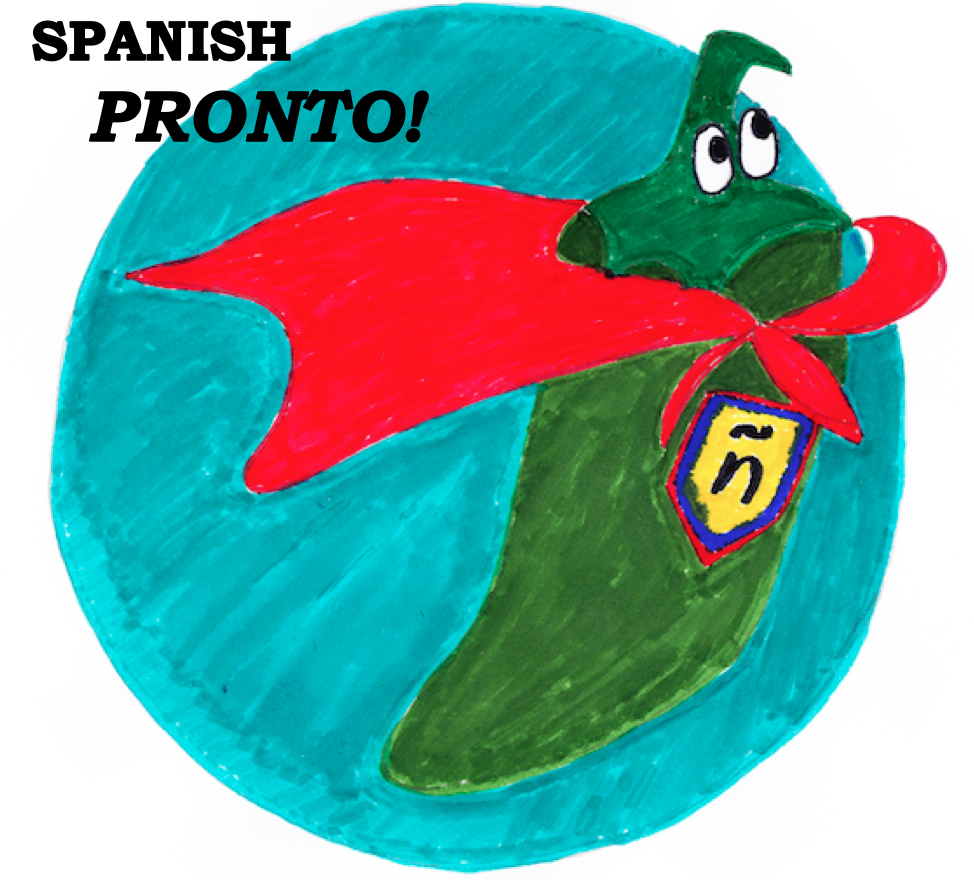 KNOW SPANISH, PRONTO!
Jump start your Spanish by learning 500 of the MOST COMMON SPANISH WORDS!
These words are among the very most common Spanish words, so each one you learn will be incredibly useful to you for reading and understanding written and spoken Spanish.
Short lessons of 10 words each, with brief notes and helpful explanations, plus example phrases with spoken pronunciation, to help you learn as much as possible quickly!
All you need to bring is a pen or pencil, a notebook, and a desire to spend a few minutes five days a week to improve your Spanish.
10 day free trial. Two pricing options: $25/year if you need more time to study the material in between other commitments and priorities, or $6/month if you are confident that you will blaze through these 36 short (and 1 long) lessons in less than four months (or even in the 10 weeks at 10 words/day it was designed for). In either case, WHEN YOU HAVE COMPLETED THE COURSE, SIMPLY CANCEL TO STOP BILLING.
Here is Lesson 29 to give you an idea of the format of the lessons. If you have questions, you can reach me at chris@spanishpronto.com
Lesson 29 (click or zoom to enlarge):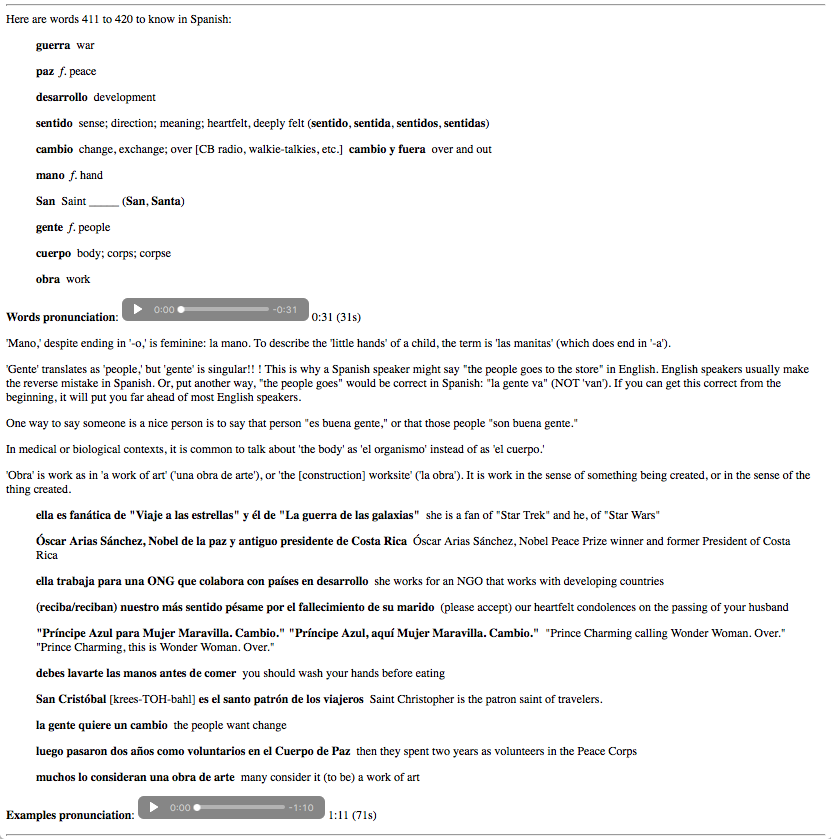 Subscriptions will renew automatically, so please cancel whenever you are done with the course or no longer wish to be billed. (Must be 18 to order.)
After you have subscribed, please check your e-mail for a link to click to confirm your subscription.
I want to learn 500 Spanish words in a hurry!
I want to learn 500 Spanish words at a more relaxed pace.
Thank you.
Chris Marquardt
Spanish Pronto chris@spanishpronto.com